Lesson learned
Last saturday I took part at a one day training with 2 grandmasters. Had won this at a competition offered by
this newspaper
. A saltimbocca with risotto and broccoli in a fine little italian restaurant was also offered. Great! The grandmasters presented own games they lost, and explained why. Really impressive, learned much, above all the strategic approach to a win. Tactics is fine, but only when its time has come.
Yesterday, at our city championship, I had the opportunity to see if I had learned the lesson. At one point I was tempted to sacrifice a piece for 2 pawns and attack, but I found no mate and decided to be patient.
Sigma Chess
told me later that my decision was wise.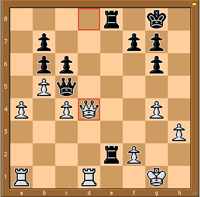 Later, at this position, White offered a draw. Hey, man, in any puzzle I see the win in 7 seconds, but this was a game, it was late in the evening, and nobody told me «Black to move and win», leave alone such hints as «weak back rank» or «removal of the guard». I admit it took me 7 minutes. I lost 5 minutes considering the consequences of the 2 ways of queen exchange, but then the pattern JUMPED to me. I took another 2 minutes silently enjoying my win before I moved.
Rating status: 6 games, +41 points = 0.32 points/day
Extrapolation, just for fun: 400 points in 1244 days